Posts from the 'Pendleton blankets' Category
Welcome to Caturday, courtesy of the @pendletonwm Instagram.
When we put this post together, we realized that four of the shots are of the same kitty! #Skogkatt is photogenic, as seen here on one of the special blankets we've done for the Ace Hotel.
A cat isn't usually much for camping, but can totally enjoy one of our Yakima Camp blankets.
This pretty Blue has a transfixing gaze, and a Journey West blanket as a background.
Here's Skogkatt again, looking very mid-century.
We wonder if this cat's people selected this Basket Dance blanket in part because it coordinates so perfectly with this tabby.
Inquisitive tri-color on a Chief Joseph blanket.
Another Chief Joseph, another tri-color. This is very nap-inspiring, yes?
Tri-color kitten, and one of the special throws we did for One King's Lane.
#Skogkatt returns, having taken over the crafting basket. You can learn about our fabrics and other craft supplies at our Woolen Mill Store.
That's all we have for #caturday. We would like to point out that the #pendledogs are winning, on Instagram. We thought cats ruled the internet?
We are so proud of our Ducks. It's been a fantastic season. And if you are wondering, yes, we had the blanket designed and the loom threaded in yellow and green. It would have been a wonderful moment to hit that switch and run those blankets, but there's always next season.
As you know, we are a family owned and operated concern, with that family being the Bishops. The Bishop family goes way back with University of Oregon football. In 1894, the University of Oregon's first football team took the field. They were known as the Webfoots back then, after a group of Massachusetts fishermen who played heroic roles in the American Revolutionary War. The U of O Webfoots didn't score a touchdown that first season, but Oregonians are tough. They came back ready to play in 1895.
Below is a team photo of the 1895 team (the ball is proudly emblazoned with that player's upcoming year of graduation). Second from the right in the lower row, wearing a turtleneck and one of the less outrageous haircuts sported by the players, is young Clarence Morton Bishop. And wouldn't you know it, he is credited with making the first touchdown in the school's collegiate football games in 1895.
Below is another archival item on the football career of "the first Mort" as he is referred to around here. Click for a larger view.
And hey. GO DUCKS!
A beautiful Husky on a Chief Joseph blanket.
Just hanging out with the people.
Loki the wolf dog is one of our favorites. He lives a rugged outdoor lifestyle with his person.
Here's a charming smile for you.
Looking dapper in a kerchief, this blue-eyed beauty takes modeling very seriously.
A Golden fashion statement.
He looks a little guilty, as if he can't quite believe his luck.
A Labradoodle on a Pendleton Chimayo throw.
Shy is a wee pup now, but we know she's going to grow up to be big dog.
Same with Foster, who is enamored of his Pendleton scrap toy.
Connie the Corgi is a blue-eyed charmer with his own Instagram account.
He has a true love of Pendleton.
He is a playful fellow.
And quite well-dressed in his flannel plaid.
When he is worn out, he appears to appreciate relaxing on Pendleton's Made in the USA wool blankets.
Especially if Dad is around.
We think Connie looks like he's a lot of fun.
Connie, thanks for your brand support. And go fetch that ball.
This holiday season, Pendleton is proud to offer a limited edition of work by Tricia Langman, co-founder and design director of Spoogi, an international print design studio based on Portland, Oregon.
Tricia, a British textile designer with West African heritage, grew up in London surrounded by print and pattern. She's a worldwide teacher of design and technique. She  has designed and produced a unique collection for Pendleton Woolen Mills using traditional Batik techniques from Java, Indonesia.
Tricia hand-draws her original design on a specially produced Pendleton blanket, and hand-paints the design with wax.
She hand-dyes each blanket in her Portland, Oregon studio.
Pendleton is proud to offer these works of art in very limited editions, each numbered and signed by the artist.
Available here.
Levi's© Made and Crafted™ collection for Fall 2014/Winter 2015  takes inspiration from the architecture of Seattle and Portland, two cities that inhabit the wild landscapes of the Pacific Northwest. Natural beauty is almost taken for granted here. Sometimes it takes  appreciation from outside the area to help us remember the wonder of our region.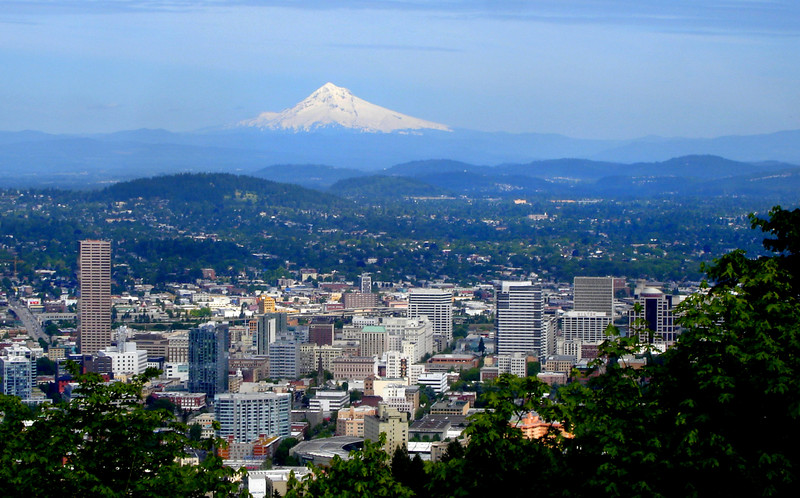 One city is built along Puget Sound, and the other is bisected by the Willamette River and bordered by the mighty Columbia. The Cascade Mountains tower behind the Seattle skyline, resembling clouds. Both cities sit near inactive volcanoes; Mt. Rainier and Mt. Hood. The designers for Levi's have used this interplay of  city and mountain, indoors and outdoors, old and new, to inspire their newest Made and Crafted™ collection. The silhouettes, texture and color palette reflect the natural and manmade beauty, with a nod to the Northern Lights for good measure.
Using these deep natural inspirations, Levi's© has partnered with Pendleton Woolen Mills to portray the  landscapes of the Pacific Northwest with shades of indigo to reflect Levi's© rich history with denim.
This beautiful blanket is available at Pendleton-usa.com. We suggest you take it along on your next adventure.
Photos by Hunter Lawrence 2014©. All rights reserved by Pendleton Woolen Mills.
Pendleton's Tamiami Trail blanket has been making some noise this year, showing up on the pages of Lucky:
InStyle:
And DOMINO:
The most exciting appearance was on Blake Lively, wearing a Lindsey Thornburg cloak that you can find on preserve.us.
That's quite a bit of press for one blanket. People are responding to the intricate, colorful pattern, but there is a story behind the Tamiami Trail blanket. And it isn't just a good story. It's an amazing story about resourcefulness and creativity thriving in diaspora.
Tamiami Trail's design is based on Seminole patchwork designs used in quilts and clothing. By the end of the Seminole Wars in 1858, the Seminole population of Florida was reduced from thousands to a few hundred. By the late 1800s, most had been driven out of Florida, but small bands remained in the Everglades and Big Cypress Swamp. Seminoles quietly retained their culture — farming, hunting alligators and visiting trading posts along the Miami River with pelts and egret plumes to trade for supplies. Their thatch-roofed homes were called chickees, and they traveled in dugout canoes made from cypress logs.
It was a long canoe trip from the Everglades to trade for cotton cloth. Seminole women began sewing with whatever materials and scraps they could find, including survey pennants, fabric selvedges and end-bolts. The patterns themselves tell stories. Click here to read about  the symbology of these patterns. "Strip clothing" became the traditional dress for Seminole men and women.
Below is a Seminole strip dress from the permanent collection of the Met.
The sewing machine became available to Seminole seamstresses around the end of the 19th century. "A sewing machine in every chickee" was the rallying cry. Seminole quilting evolved using ever-smaller and more intricate piecing.
In 1928 the Tamiami Trail, the highway from Tampa to Miami, opened. The Seminole saw new trade opportunities in the tourist market for crafts such as patchwork and palmetto dolls.
So yes, This is a beautiful blanket. But its design tells a larger story about a beautiful Seminole artistic tradition. Their entrepreneurial success along the Tamiami Trail is a testimony to Seminole resilience. Strip clothing is still made and worn today, and it's every bit as beautiful.
Additional information here:
http://www.colliermuseums.com/history/seminole_patchwork
These shots came to our attention a little after the fact.
http://websta.me/p/826009414040809820_452840507
http://websta.me/p/825703300128277793_8085224
The blankets, from left to right, are Arrowhead, Compass Stripe and North Star.
We've known Neil Young loved our shirts for a long time. We are honored to be used in a set that transported Neil's rustic California vibe to the stage of the Wang Theater in Boston.
Editor's note: Today's blog post is brought to you by guest blogger Mark Poltorak, who manages the Pendleton employee store. Enjoy it!
Everyone who works at Pendleton's corporate office has smelled it; that delicious odor of deep-fried donut batter as we leave the building and walk toward Burnside.
A line of patient patrons congests the sidewalks for what seems like 24 hours a day.  We see the iconic pink boxes all over town, in the airport and on TV.
Established in 2003, Voodoo Doughnuts has become an iconic, must-see/eat in the "Keep Portland Weird" tourist scene.  Now, Voodoo has asked Pendleton to create a Voodoo Doughnut blanket that will keep you as warm as those fresh out-of-the-fryer sugary treats.
The blanket features a detailed display of Voodoo icons.  In the center, emerging from the center of the blanket (and a doughnut, of course), we are greeted by none other than Baron Samedi.  Baron Samedi waits at the crossroads between the worlds of the living and the deceased.  He is armed with a shovel and eager to dig the graves and greet the souls of the newly departed.  It is rumored that Baron Samedi can be brought to a swoon with treats (such as doughnuts!).
A comforting sight to balance the grim aura of Baron is the impressive spread of Voodoo's bread and butter: the doughnuts! Fans of Voodoo will find all their bizarre but delicious favorites: the McMinnville Cream, Neapolitan, Diablos Rex, Sprinkle, Bacon Maple Bar, Portland Cream and Triple Chocolate.
Of course, the blanket wouldn't be complete without a representation of the most iconic Voodoo doughnut of all! The Voodoo Doll doughnut is featured multiple times.
Long after Baron has claimed us all for his own keeping, this eerie blanket will keep you warm.  Be on the lookout for one at the Voodoo Doughnut site. And remember, "The Magic is in the Hole."